Discover more from Opera Daily
An email that makes you love opera.
Over 5,000 subscribers
This week is all about bel canto. While you will hear many interpretations of what bel canto is, there is no such thing as a bel canto opera. Bel canto is a style or way of singing in opera from the mid-18th to early 19th centuries, although it can be traced back to operas birth in the 15th century. During this period, composers made it clear that the singer was to take over in any way they pleased. I read somewhere, that once a composer had written a score, it was considered a skeleton, and they expected the singer to fill it out. The composer would often note this preference in the score using the phrase "col canto," which was an instruction to the accompanist to follow the soloist's tempo (time). The literal translation is "with the melody."
Specific singers, and composers became known for this style (the composers Gioachino Rossini, Gaetano Donizetti, and Vincenzo Bellini have been called the "three kings of bel canto"). Unlike our modern understanding that a composer includes all the notes a singer is supposed to sing, singers were expected to add to the written music.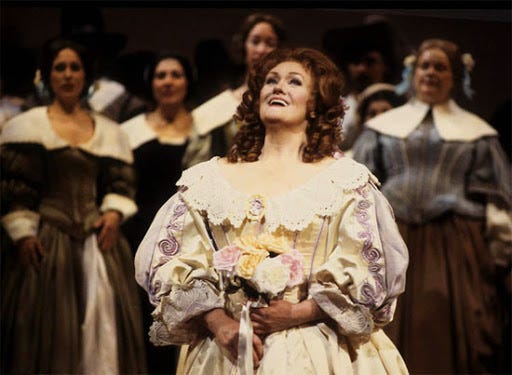 Today we're listening to "Qui la voce" from Act II of the Italian opera I puritani by Vincenzo Bellini. Of course like the "kings of bel canto", there are definitely queens of bel canto and Joan Sutherland is one of them. Joan Sutherland was a master of this opera style and she is singing the role of Elvira here. You can hear more of Joan's singing here in Semiramide.
🎧 Listen here (7 minute listen):
YouTube / Apple Music / Amazon Music / Spotify
I puritani is Bellini's final opera. It premiered in January 1835, seven months before his death at 33.
In opera, this is considered a "mad scene" (I will talk more about these in a separate post). The setting is England, and Lord Walton, the Puritan Governor-General, has given his daughter Elvira (soprano) permission to be married to the man she loves, Arturo. But on the day of the wedding, Arturo (tenor) learns that the widow of Charles I is in the castle and sentenced to death. He escapes with the queen disguised in the wedding veil he had brought for Elvira (yup, OPERA 🙈). When Elvira finds this out, she comes undone. She remembers her lover's voice and sings, "Qui la voce."
It was here his soft voice called me… and then disappeared.
He swore to me he'd be faithful, this he vowed.
And then cruelly he ran away!
Ah, we are no longer together, in the joy of our sighs.
Ah, return to me my hope, or let me die.

Come my beloved, the moon is in the sky!
All is quiet around us; until dawn when the sun rises, come and rest upon my heart!
Hurry! Make haste my Arturo, return to me, dear, it's your Elvira:
she weeps and longs for you, come my dear, my love, etc.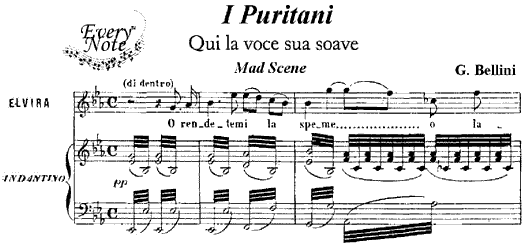 Want more?
I love these two videos of conversations between Richard Bonynge, Joan Sutherland, Luciano Pavarotti, and Marilyn Horne. Not sure there is anything better than great singers talking about singing! I agree 100% when Pavarotti suggests that, "A singer is an athlete" and 200% when Marilyn Horne says "half athlete, half artist."
Thank you for listening,
Michele