Discover more from Opera Daily
An email that makes you love opera.
Over 5,000 subscribers
Hello to our 205 new members that joined since last Friday! 🎉🥂 We will be moving to more formalized themes each week starting Monday. This will allow us to keep the emails short and sweet while having three opportunities to share a bit more on a specific composer, time period, singer, etc. I appreciate all of the suggestions that you are sending my way! I love hearing from you, so please continue to send thoughts and questions, comment on the posts, and share with your friends.
---
Today we're listening to…
"Dio, che nell'alma infondere," a duet from Act I of the 19th-century opera Don Carlo, composed by Giuseppe Verdi. Thank you to one of our OD subscribers, Bob Ciuffreda, for bringing this performance to my attention. When Bob sent me this live performance yesterday, he said, "it doesn't any get better than this," and I can concur after listening. Carlo Bergonzi (tenor) and Piero Cappuccilli (baritone) are singing a live performance here. Like the famous duet from The Pearl Fishers we featured in July, this duet follows in the 19th-century tradition of operatic "Friendship" duets, which feature tenor and baritone singing complementary musical lines.
This performance is an elixir for the soul.🤎
🎧 Listen here (6 minute listen):
YouTube (Live recording, Bergonzi and Cappuccilli in NYC)
Don Carlo is Verdi's most ambitious and complex work. The story of Don Carlo is fictional, but the characters are historical. The plot centers around the conflicts in the life of the heir to the Spanish throne (Don Carlo, son of the King of Spain) after the woman he is suppose to marry (Elizabeth de Valois, Princess of France), is married to his father instead.
In Act I of the opera, Don Carlo (tenor) is reunited with his friend, Rodrigo (baritone), who has recently returned from a mission. They sing the duet "Dio, che nell'alma infondere", in which they pledge themselves to the cause of liberty and swear life-long friendship to one another.
Oh God, who wished to instill love and hope in our souls,

Thou must kindle within our hearts a desire for liberty.
Verdi is a genius and leaves Easter eggs for us everywhere in his music. When the baritone line comes up to the tenor range, and the singers meet on one note - you can feel the unity and friendship that Verdi was trying to convey. It is pure gold.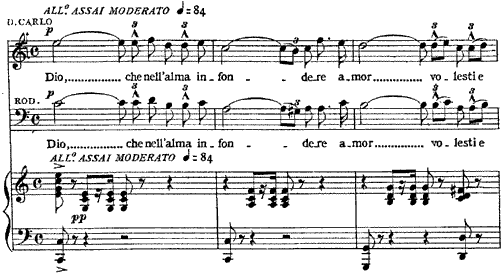 Want more?
I also love this performance of the duet with Placido Domingo and Sherrill Milnes.

Don Carlo has no definitive version or standard performing edition. In its original form, first presented in Paris in 1867, Don Carlos was a five-act opera containing more than four hours of music, sung in French. In October 1867, the text was translated into Italian for production in Bologna. Verdi left the opera in Italian and French, but the opera is today most often performed in the Italian translation, usually under the title Don Carlo (Don Carlos in French).

There was a revival of Don Carlo at the Metropolitan Opera in New York in November 1950, and the opera was picketed by protestors who objected to its anti-Catholic tone. 
Thank you for listening,
Michele