Discover more from Opera Daily
An email that makes you love opera.
Over 5,000 subscribers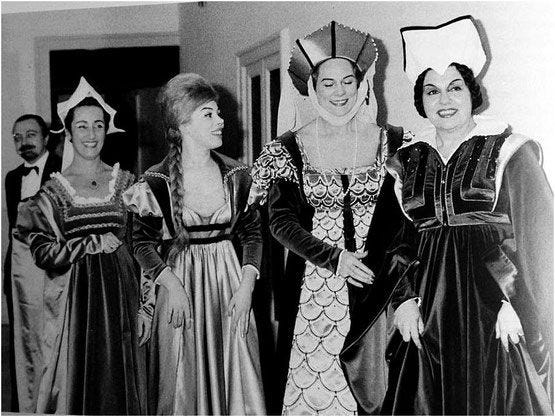 Today we're listening to…
"Sul fil d'un soffio etesio", Nannetta's aria from Act III of the Italian opera Falstaff by Giuseppe Verdi. As I mentioned on Monday, this is Mirella Freni week, so we hear her again here. The beauty of Freni's voice and her charm and sincerity come through in this aria.
Falstaff was the last opera written by Verdi when he was 79 years old, and he was writing for only his pleasure, no commission, no performance in mind. When he finished it, he felt that it would be his last work and that his work was complete. The joy and beauty contained in just this aria are proof of that.
🎧 Listen here (4 minute listen):
YouTube / Apple Music / Amazon Music / Spotify
Falstaff is a comic opera and very different from the operas Verdi wrote prior. There's no overture, and the opera as a whole has a different tone. Falstaff is what you call "through-composed", meaning the music is not repetitive, it is continuously changing and evolving, and it's constant from beginning to end.
The story takes place in England, at the end of the 14th century. It centers around Sir John Falstaff (baritone), who hatches a plan to court two wealthy, married women. The women (Alice Ford, soprano, and Meg Page, mezzo-soprano) catch on to his plan and teach him a lesson (with the help of the Fords' teenage daughter, Nannetta). Throughout the opera, Falstaff's grand plan falls apart, and in the end, he gets what he deserves. Falstaff is a larger-than-life, self-involved character that teaches us a lesson at the end by learning to laugh at ourselves, with the famous line:
"Everything in the world is a jest. . . Every mortal laughs at all the others. But he who laughs last laughs best."
In Act III, the character of Nannetta sings "Sul fil d'un soffio etesio" ("On the breath of a fragrant breeze, fly nimble spirits") while disguised as the Queen of the Fairies to haunt Falstaff in the forest.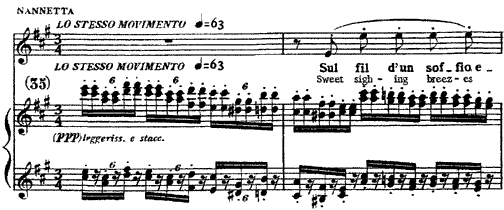 Conversation starters
Out of Verdi's 26 operas – only 2, including Falstaff, were comedies. The premiere of Falstaff took place in 1893, at La Scala in Milan, Italy.

If you are a Verdi fan and have seen the full opera, you can hear references to at least two other Verdi operas in Falstaff.

Falstaff is adapted from Shakespeare's plays The Merry Wives of Windsor and scenes from Henry IV.
Thank you for listening,
Michele