Discover more from Opera Daily
An email that makes you love opera.
Over 5,000 subscribers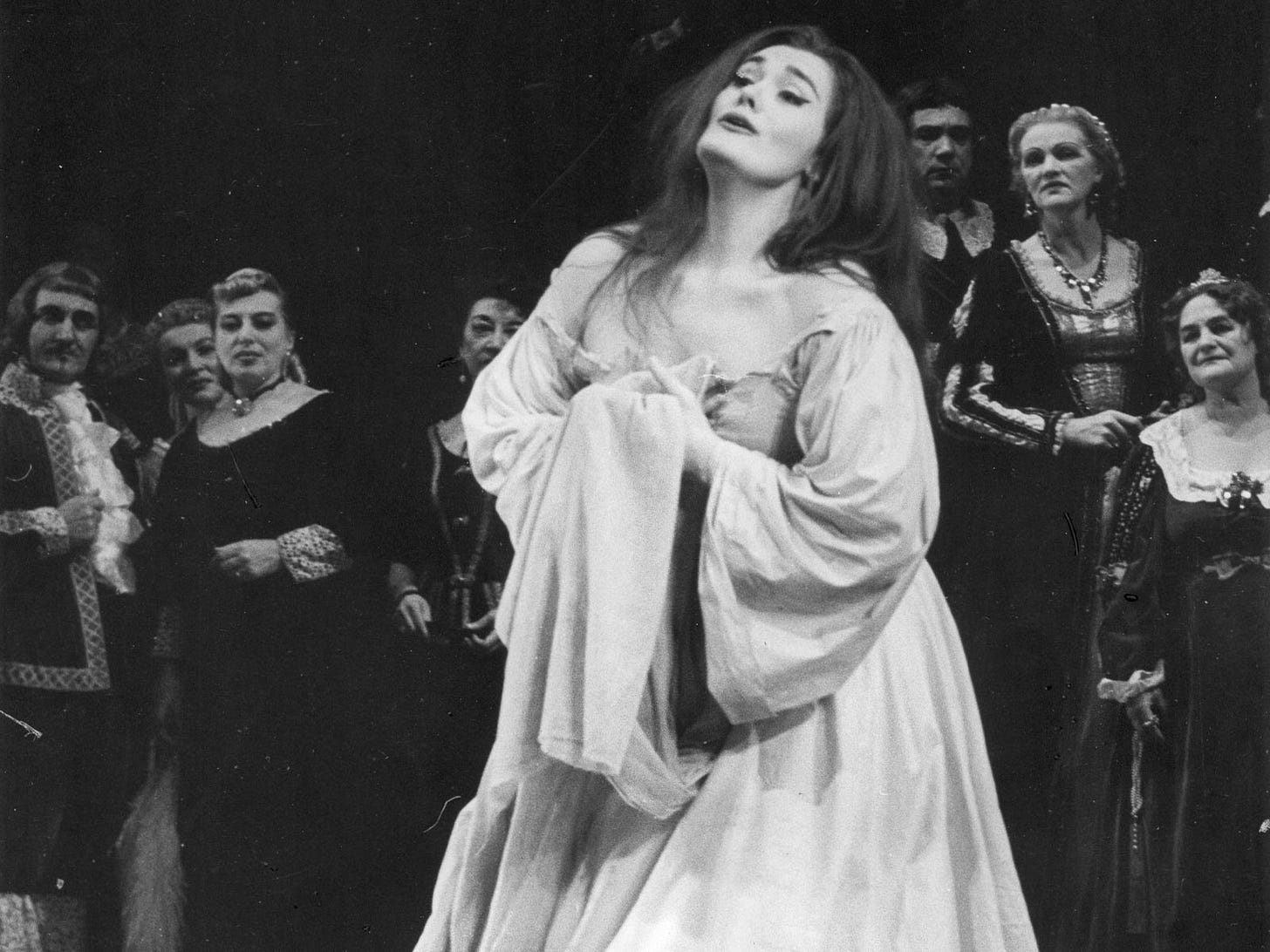 (Joan Sutherland in Lucia di Lammermoor at the Metropolitan Opera, 1961)
Today's we're listening to "Regnava nel silenzio," from Act I of the Italian opera Lucia di Lammermoor by Gaetano Donizetti.
We are wrapping up our second week dedicated to the style of bel canto. We are ending with the queen and king of the bel canto repertoire—dramatic coloratura soprano Joan Sutherland and composer Gaetano Donizetti. Please look at the first, second, and third in our bel canto series if you missed them.
🎧 Listen here (8 minute listen):
YouTube / Apple Music / Amazon Music / Spotify

This aria is a typical example of the two-part bel canto aria structure. In the first part, "Regnava nel silenzio," which is the cavatina, a character will express a memory or a sad or unhappy feeling about her situation. The cavatina (cah-vah-TEEN-ah) usually contains a long, lyrical vocal line designed to show off the singer's vocal and breath control. Then something happens on stage. Another character might express an opinion, try to prevent an action, or some news might arrive. In light of this event, the first character's feelings change. This second emotional state is expressed in the second part of the two-part aria, "Quando rapito in estasi," the cabaletta (cah-bah-LET-tah), which is generally faster and more energetic, and it is designed to show off the singer's vocal acrobatics. 💥
The setting of the opera is 18th-century Scotland. Lucia Ashton is madly in love with Edgardo Ravenswood (tenor), who is from a rival family. Her brother, Lord Enrico Ashton (baritone), intervenes and devises a plot to drive the two apart and force Lucia to marry someone else. She is so distraught and begins to lose her grasp on reality, and, by the end of the final act, people are dead. 😳
In this aria, Lucia remembers the night when the ghost of a woman killed at the fountain by Edgardo's ancestor appears to her and warns her that her romance with Edgardo will end badly. In the second part, her mood brightens up with the excitement of Edgardo's arrival.
In the silence, there reigned a deep, dark night.

A pale ray from the covered moon fell on the fountain,

When a faint moan was heard in the air; and suddenly at the water's edge,

The ghost appeared to me. Ah! I saw her lips moving, as if she were speaking.

And with her lifeless hand, she seemed to gesture to me to come nearer.

She stood motionless for a moment, then suddenly she disappeared,

And the water, which had been so clear, turned red with blood.
Are you still interested? Want more? 
I didn't even touch the famous "mad scene" from Act III of Lucia di Lammermoor in this post. Too much great music, not enough time! Writing mad scenes largely died out after the bel canto era, as composers sought to inject more realism into their operas. You can hear Joan Sutherland sing the scene here. It's long but packed with many beautiful moments. Her voice is so fresh, so precise.

And then there is the sextet from the opera, "Chi mi frena tal momento," which is viewed by many as one of the biggest hits of the night. You can listen to it here. Does this sound familiar? Tony Montana whistles this tune in the 1932 film Scarface.  

There has been so many powerful interpretations of this role. If you'd like to hear more, try listening to Anna Netrebko, Maria Callas, Edita Gruberova.

Joan Sutherland died ten years ago yesterday on November 10, 2010. I am so grateful that she continues to teach us about bel canto even now that she's gone. She will always be "La Stupenda" in my eyes. Thank you, Joan. 🙏🏼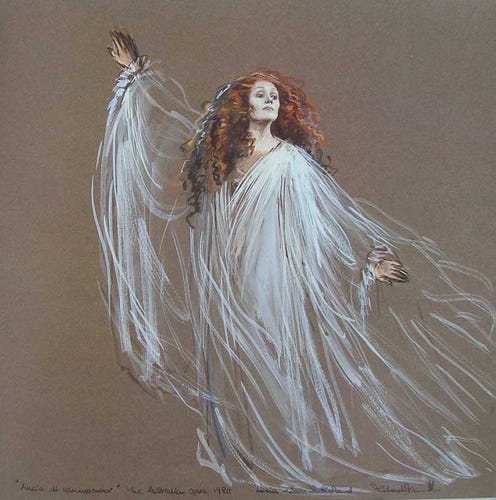 Thank you for listening, 
Michele