Discover more from Opera Daily
An email that makes you love opera.
Over 5,000 subscribers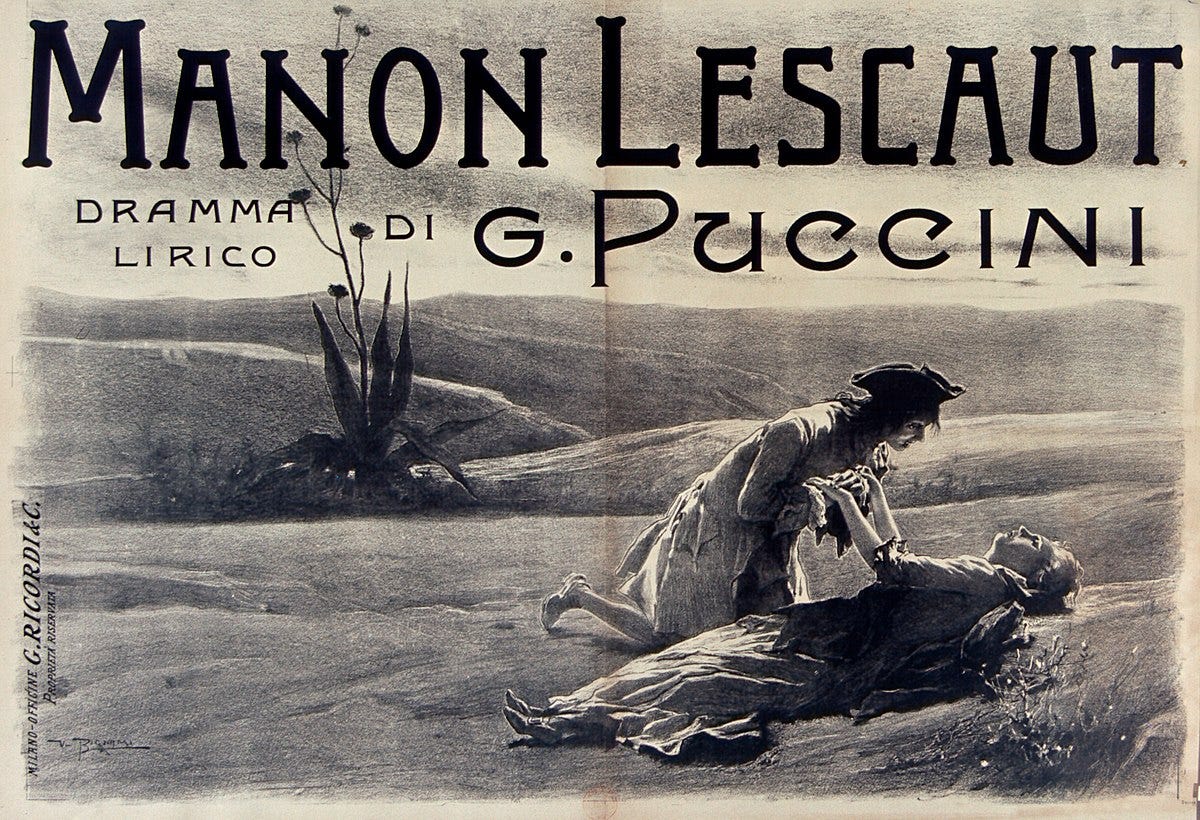 Today we're listening to…
"In quelle trine morbide," a soprano aria from Act II of the four-act Italian opera Manon Lescaut by Giacomo Puccini. As I mentioned on Wednesday, we are moving to more formalized themes on Monday, so I decided I would take my last opportunity to go rogue and bring back Mirella Freni and share one of my absolute favorites. This opera is a work of art, and I promise you, little prior knowledge of opera is required to appreciate its greatness.
A subscriber asked me the other day, which aria I thought was the most beautiful. This is highly subjective, but for the most part, I see beautiful as different from great. Di Quella Pira from Il Trovatore is not beautiful, but it is great. Beautiful, to me, means melodic, sweet, agreeable. Lyrical. However, "In quelle trine morbide," to me is an exception in that it is beautiful and great. I will leave you with one anecdote on this point: When I was in high school, I would go to the opera with my mother, and at intermission, she would ask me, "Was that good?" And I would answer: "If you liked it, then it was good." 😌
🎧 Listen here (2 minute listen):
Apple Music / YouTube / Amazon Music / Spotify / Qobuz 
Manon Lescaut is a love story full of sensuality and explores the struggle between vice and virtue.
In eighteenth-century France, a student, Des Grieux (tenor), falls in love with Manon (soprano), who has arrived from the country with her brother Lescaut (baritone). A wealthy older gentleman called Geronte (bass) is obsessed with Manon and plans to abduct her 😳, but she escapes to Paris with Des Grieux. In Act II, we see that Manon has left Des Grieux and goes to live with Geronte. While she enjoys the cushy life that Geronte offers her, she remembers Des Grieux's love and sings how she is not sure she made the right decision to live with Geronte.
In those soft lace hangings, in that gilt alcove, there is a silence, a mortal chill

there is a silence, a coldness that turns me to ice!

And I who was accustomed to a voluptuous caress of ardent lips and passionate arms

now have something quite different.

Oh, my humble dwelling, you again appear before me – cheerful, secluded, white-walled, like a sweet dream of peace and love.
Conversation starters
Manon Lescaut is the third opera of Puccini and pronounced Mah-non-LESS-KO. Rhymes with "Pants on, let's go!"

This opera is different from Manon by Jules Massenet. Nine years before Puccini began writing Manon Lescaut, Jules Massenet premiered Manon, based on the same novel (The Story of the Chevalier des Grieux and Manon Lescaut by Antoine François Prévost). Puccini reportedly said, "Manon is a heroine I believe in, and therefore she cannot fail to win the hearts of the public. Why shouldn't there be two operas about her? A woman like Manon can have more than one lover."

If you are looking for a full version of the opera, I recommend this recording with Mirella Freni and Placido Domingo. Also, while Maria Callas never sang this role on stage, her interpretation is perfection.🙏🏼
Thank you for listening,
Michele