Discover more from Opera Daily
An email that makes you love opera.
Over 5,000 subscribers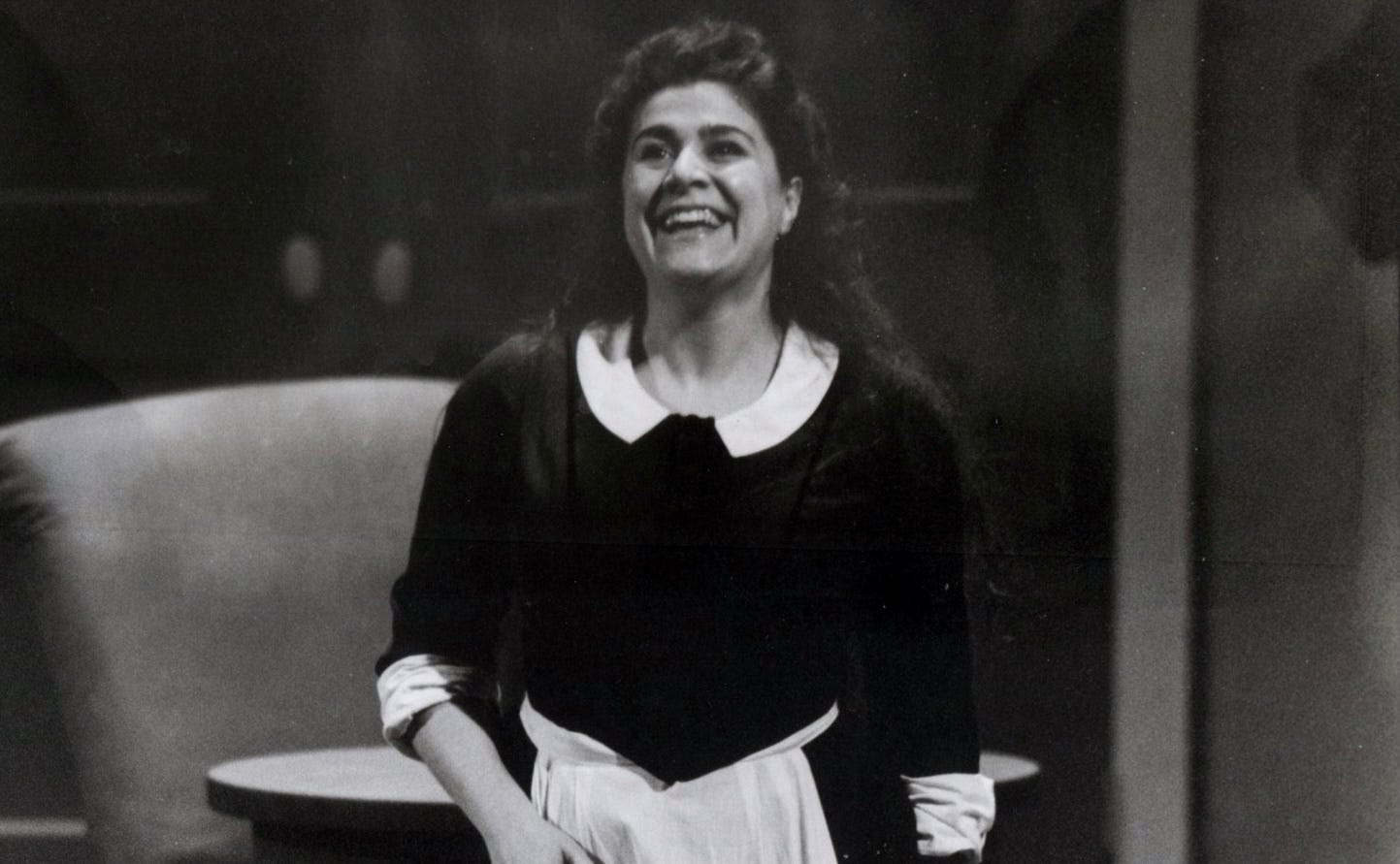 This week is all about Cecilia
Today we're listening to Cecilia Bartoli sing the aria "Non più mesta," which occurs at the end of the Italian opera La Cenerentola by Gioachino Rossini. If you missed the first post in this series where Cecilia sings Vivaldi, you could find it here.
Born in Rome to two professional singers, Bartoli was pretty much born 👼🏼 on the opera stage. Bartoli is one of my singing heroes. She is a brilliant, inspiring, and authentic artist that sparks joy. You can see that joy in action again here at the start of the aria "Son qual nave ch'agitata," by Ricardo Broschi. There is nothing better than seeing the look on her face after she gets through that first phrase. I think she even surprised herself! 😮
Now on to the main attraction…
🎧 Listen here (3 minute listen):
YouTube / Apple Music / Amazon Music / Spotify
La Cenerentola (cheh-neh-RENN-toe-lah) is the story we know as "Cinderella". It takes place in an imaginary kingdom at no specific time in history. But that story has been told in many different ways, as I mentioned in a previous post when we covered Jules Massenet's version of Cinderella (Cendrillon). There are over 350 versions of the fairy tale!
Cecilia Bartoli as Angelina (Angelina is Cinderella's birth name) sings "Non più mesta" ("No longer sad"), one of the most beautiful and difficult arias ever written, at the end of the opera. Instead of seeking to get even with her sisters who have hurt her, she forgives them. She sings that her life has been transformed by love and that she forgives all who wronged her before and wants only to embrace them. Joyous music is perhaps the most powerful form of music that exists! The world needs more of this right now. Thank you Rossini and Cecilia! 🙏🏽
Still interested? Want more? 
Rossini reportedly wrote the music for La Cenerentola (his nineteenth opera), in just twenty-four days 😮 before it premiered Rome in 1817.

La Cenerentola is a perfect example of the early 19th-century bel canto style. You can read more about bel canto in a previous post.

Bartoli was the first singer to perform La Cenerentola at the Metropolitan Opera's premiere in 1997.

I love this snippet from an interview Bartoli had with Charlie Rose in 2000. She shares her perspective when opera singers crossover from opera to other genres to attract new audiences.
"I think the real crossover for me is not the one that we are used to listening (I mean, to move to a different kind of repertoire). I think the real crossover is to bring an audience in to what are you doing and not just go to them with something else. So to bring the audience to me is the audience listening to Vivaldi music. Yes, to bring new audience to Vivaldi. To bring new audience to Handel. So this is a real crossover for me."
If you missed the first post in this series, you could find it here.
Thank you for listening,
Michele
❤️ If you enjoyed this selection, hit the heart to like it. It helps others find Opera Daily.