Discover more from Opera Daily
An email that makes you love opera.
Over 5,000 subscribers
Welcome to the 456 new Opera Daily members who have joined us since the last week! 🎉
To allow folks to catch up on selections and prepare for some cool announcements we have coming next week, we will have one update for this week (so only Wednesday of this week, not Sunday). If you're reading this but haven't subscribed, join 3,408 smart, curious folks by subscribing here!
---
Today we're listening to "Ma, Signor", the finale from Act I of Gioachino Rossini's opera Il Barbiere di Siviglia (The Barber of Seville).
The Barber of Seville, which premiered in 1816, at Teatro Argentina in Rome is probably the best example we have of an opera buffa, or comic opera. In contrast to the "serious" style of Italian opera that predominated in Europe from the 1710s to about 1770 that focused on solo arias, opera buffa focused more on extensive use of ensembles and a new emphasis on the chorus. Rossini teaches us to expect zaniness when it comes to the finales of his comic operas and this one is frenetic, busy and chaotic in the best way. I especially love this version with Marilyn Horne, Leo Nucci, Paolo Barbacini, Enzo Dara, and Samuel Ramey. It's not widely available, so I am including a link to listen on Spotify, as well as another popular version. This ensemble is incredibly difficult to sing and some nail it and others don't! 🤷🏻‍♀️ But I think it's important to keep in mind that six voices are piling on top of each other here. Rossini was indeed a master at matching words and music.
🎧 Listen here (5 minute listen):
LONG STORY SHORT
The Barber of Seville brings us another familiar plot. The setting is Seville, Spain, in the 18th century. Rosina (mezzo-soprano) loves Count Almaviva (tenor) and wants to marry him—but Dr. Bartolo (bass), her older guardian, who keeps her under lock and key, intents to marry her. However, with the help of Figaro (baritone), in the end, young love wins! 👩‍❤️‍👨
During this Act I finale, it's chaos inside Bartolo's home as Figaro, Count Almaviva, Rosina, Bartolo, Berta, Don Basilio, and the police try to figure out exactly what's going on. The police are about to arrest Count Almaviva when he quietly signals his true identity to them. This confuses everyone, and no one knows what to make of all of this. 😕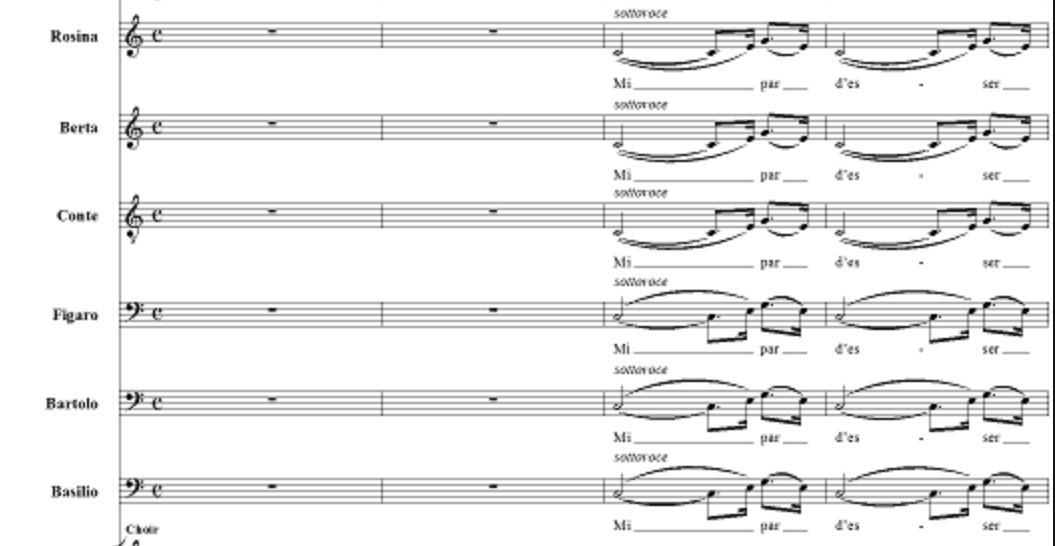 Still interested? Want more?
It has been said that Rossini completed The Barber of Seville in just 12 days! 😳

The Barber of Seville has been featured in movies, TV shows, and cartoons for decades. The most well-known example is the Looney Tunes classic "Rabbit of Seville."
Thanks for listening, and see you next week,
Michele
❤️ If you enjoyed this selection, hit the heart to like it. It helps others find Opera Daily.